Join us for Colorado's largest diversity fair for high school students.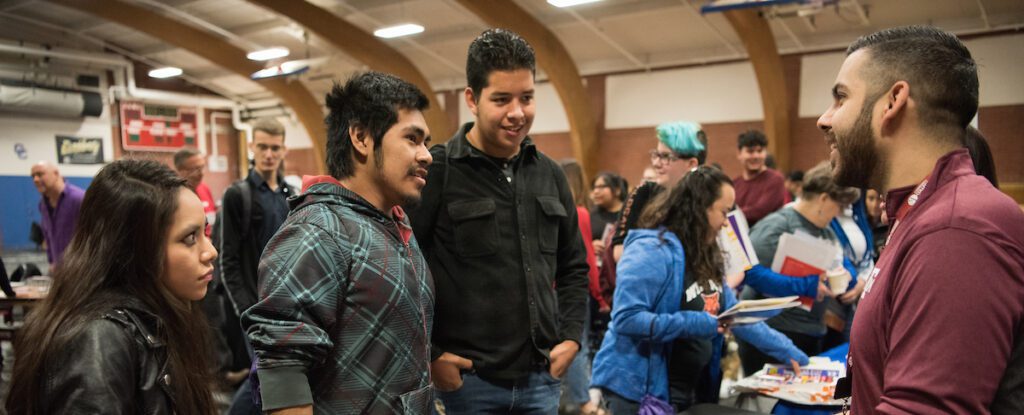 Modeled upon a typical college fair, this unique event includes not only colleges and universities, but also non-profit organizations, private corporations, the military and others. Our goal is to offer Colorado teenagers a multitude of options and ideas for their next steps upon graduation from high school.
Unlike a typical college fair, our event asks the exhibitors to specifically share what their schools or organizations are doing to support diversity and inclusion. We invite each college or university to bring not only admission representatives, but also their diversity officer or team to speak directly with high school students about the culture on their campus and how they are advancing inclusion and justice for their students.
The Fair is free of charge to students and parents, and is open to the public.
COVID-19 Update: At this time we are optimistic about holding an in-person fair at the end of January 2021. As the date nears, and as the situation changes, we will update this website.
Date and Time
Saturday, January 30, 2021
7:30 – 9:30 am
We host this Fair each year on the same day as the Cherry Creek Diversity Conference, and every person attending that event will have a chance to walk through the Diversity Fair before proceeding to the conference. Note that participation in the Cherry Creek Diversity Conference requires registration. While the Diversity Fair is open to the public, the rest of the conference day is limited to those with tickets purchased in advance.
Directions
The Fair will take place in the West Building gyms on the campus of Cherry Creek High School.
Attendees are required to enter the campus off Yosemite Street and Campus Drive; you can find directions to the event here.
Once parked, follow the balloons to enter the West Building near the clock tower.
Participating Organizations
Below is a list of organizations that have attended the Fair in the past. We will update this list with the 2021 organizations as we get closer to the event date.
Arizona
Northern Arizona University
Prescott College
University of Arizona
California
Los Angeles College of Music
University of Redlands
Colorado
ACLU of Colorado
Adams State University
Adolesco Youth Exchange
AFS Colorado Rockies
Aims Community College
American Friends Service Committee
Anti-Defamation League
Arapahoe Community College
Building Bridges
The Center on Colfax
Colorado College
Colorado Democracy Challenge
Colorado Mesa University
Colorado School of Mines
Colorado State University – Fort Collins
Colorado State University – Pueblo
Community College of Aurora
Community College of Denver
Fort Lewis College
Front Range Community College
Johnson & Wales University
Meet the Middle East
Metropolitan State University of Denver
Northeastern Junior College
One Colorado
PeaceJam
Regis University
Sacred Voices
Spartan College of Aeronautics and Technology
Spirit of the Sun
Teachers United for Immigrant Rights
University of Colorado – Anschutz Medical Campus
University of Colorado – Boulder
University of Colorado – Colorado Springs
University of Colorado – Denver
University of Denver
University of Northern Colorado
US Air Force Academy
US Army
Western Colorado University
Georgia
Savannah College of Art and Design
Illinois
Illinois Wesleyan University
Iowa
Wartburg College
Kansas
Chadron State University
Emporia State University
Fort Hays State University
Kansas State University
Kansas Wesleyan University
University of Kansas
Wichita State University
New Mexico
New Mexico Institute of Mining and Technology
University of New Mexico
North Dakota
University of North Dakota
Oklahoma
University of Oklahoma
Oregon
University of Oregon
South Dakota
Black Hills State University
Tennessee
University of Tennessee
Utah
University of Utah
Utah Valley University
Washington
Pacific Lutheran University
Wyoming
University of Wyoming
Exhibitor Registration
If you are a representative of a college, university, non-profit organization, the military, private corporation or other organization, register for a table at the Fair using the form below.