Join hundreds of teens and teachers from across New Mexico on Saturday, February 20, 2021, for a unique and powerful day planned entirely by and for students.

Teens from large and small, urban and rural, public and private schools across New Mexico are invited to join the 3rd annual New Mexico Diversity Conference for Youth, to be held in Albuquerque on Saturday, February 20, 2021. This is a unique opportunity for students fighting for inclusion and social justice to come together, learn from experts on a variety of issues, and brainstorm projects to improve their schools and communities. Last year's conference had over 400 in attendance; we anticipate an even larger audience in 2021.
COVID-19 Update: At this time we are optimistic about holding an in-person conference in February 2021. As the date nears, and as the situation changes, we will update this website.
Past Keynote Speakers
The keynote speaker for the Conference is selected each year by the Student Executive Committee. We'll announce it here when finalized; in the meantime, here is a list of the incredible and inspiring people who have addressed attendees for the past two years.
Who Should Attend
The Conference is open to all high school students and supportive teachers/adults from across New Mexico. In particular, this event is a great opportunity for groups such as:
Diversity or multicultural student clubs
Student councils
Peace/conflict resolution-focused organizations, including PeaceJam and Interact
Religious student organizations interested in exploring interfaith dialogue and positive social change
Clubs celebrating specific student ethnicities, including Black Student Alliance, Latinx or Hispanic student clubs, Native/Indigenous student clubs and others
Gender/sexuality-focused student groups, including gay-straight alliances
Female empowerment student clubs
Peer counselors
Deaf students and their allies, including ASL signing clubs
Disabled students from all backgrounds
Creative writing and performance student groups, including poetry, spoken word, hip-hop, dance and other clubs
Students from a local youth organization, even if they attend different schools
ANY group of teens interested in improving their school's culture or making a positive change in their community
Schedule
We fill the conference day with numerous opportunities for students and teachers to discuss, engage and explore the topics that are most important to them. Click any portion of the day below for more information. You can also download a printable version of the day's schedule.
Arrival and Parking / 8:30 – 9:30 am

We are still searching for a venue for the 2021 conference, but will announce it here! If your school is interested in hosting the 2021 event, contact us.

If your group is not traveling to the event together, agree on a specific time to arrive as a group in advance. Once parked, follow the balloons to registration.
Breakfast / 8:30 – 10:00 am

We provide a light breakfast, including bagels and cream cheese, yogurt, fruit and muffins, as well as water and coffee. Participants are then ushered as a school group to the main auditorium to register.
Registration and Morning Entertainment / 8:30 – 10:00 am

Group leaders register their clubs or groups; registration takes a matter of minutes. Each school receives a packet containing materials for the conference day, including nametags. An emcee and various student groups from around the state keep participants entertained as we get closer to starting the formal program.
Opening Ceremonies and Keynote Speech / 10:00 – 10:50 am

Opening Ceremonies begin with welcome speeches by the conference student co-chairs and educational leaders. Each year the Student Executive Committee works hard to identify and invite a notable public speaker to address conference attendees. In 2020 we were addressed by slam poet and community activist Hakim Bellamy.
Discussion Groups and Lunch / 10:55 am – 12:25 pm

The first interactive session of the conference day involves informal group discussions of students from all over the state led by trained student facilitators. Students have an opportunity to speak their mind about the social issues they are facing in their schools and communities, and hear from other students from across the state who may be facing similar or different issues. Lunch is served at this time as well. While students are in their discussion groups, faculty advisors meet to have professional development workshops on teaching for equity and social justice.
Workshop A / 12:35 – 1:45 pm
Workshop B / 1:50 – 3:00 pm
Action Planning Meetings / 3:05 – 3:40 pm

All attendees meet back with their schools or organizations for a brainstorming discussion on creating an action project for the second semester. Each school is free to identify whatever issue is most pressing to be addressed, and YCD provides support and guidance as students plan, enact, and evaluate their project.
Closing Ceremonies / 3:45 – 4:15 pm

We finish the day by giving out a community award, viewing a video montage, and hearing from an exceptional musical performer.
Workshops
The 20+ workshops offered at the Conference each year are chosen by the Student Executive Committee, so that the topics are constantly reflecting the needs, interests, and challenges facing New Mexico's teens.
Below is the partial list of workshops that took place at the 2020 Conference. We will post the updated list of workshops for the 2021 event no later than February 1, 2021. Hover over any slide to pause the animation.
Propose a Workshop
Do you have an idea for a good workshop at this event? We are currently accepting proposals and would love to hear from you! Past presenters have included high school students, non-profit organizations, teachers, parents, and interested members of the community.
Partners, Allies and Accomplices
YCD is proud to work with dozens of local, authentic non-profit organizations and community groups to provide workshops and education for our programs. Below is a representative list of the organizations that have presented at the Conference recently.
Student Executive Committee
As with all YCD conferences and events, the Conference is planned entirely by the Student Executive Committee, a team of some 20-30 students from a wide variety of high schools and identities. While the conference's goals do not change year to year, every other detail is planned by this group of dedicated volunteers.
We also take the group through a variety of bonding exercises, to explore their own identity as well as learn about others in the group. Student Executive Committee members also have a chance to participate in several workshops on different diversity-related topics leading up to the conference.
The committee is open to all high school students willing to devote the time to make the Conference a success.
The deadline to apply for the Student Executive Committee has now passed. We will send notifications of decisions in the next few days, and will announce members of the Committee on this page soon!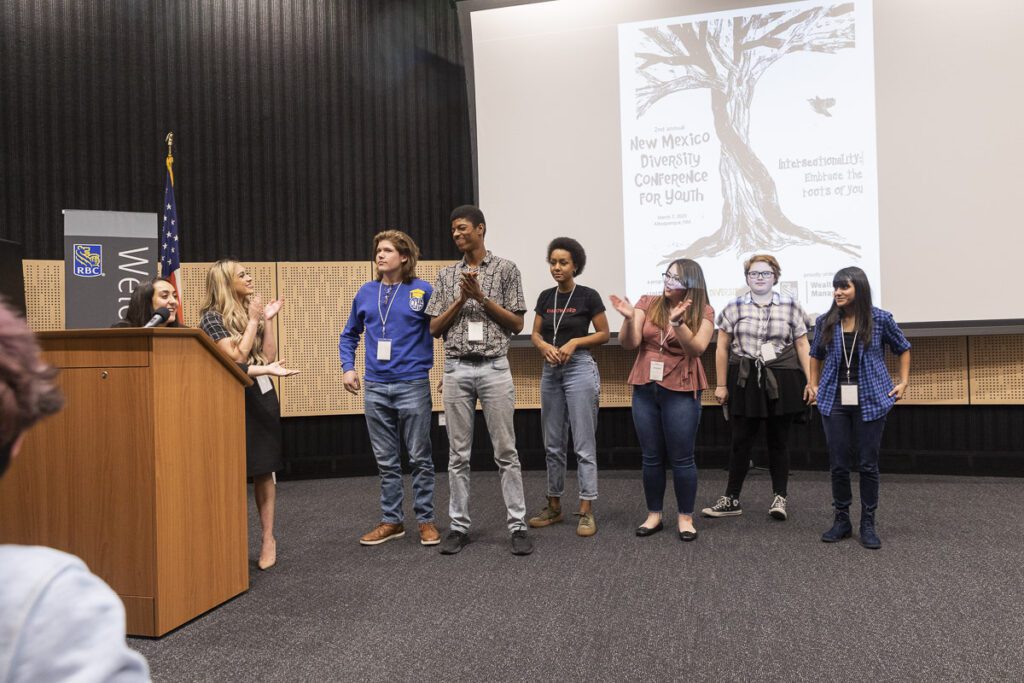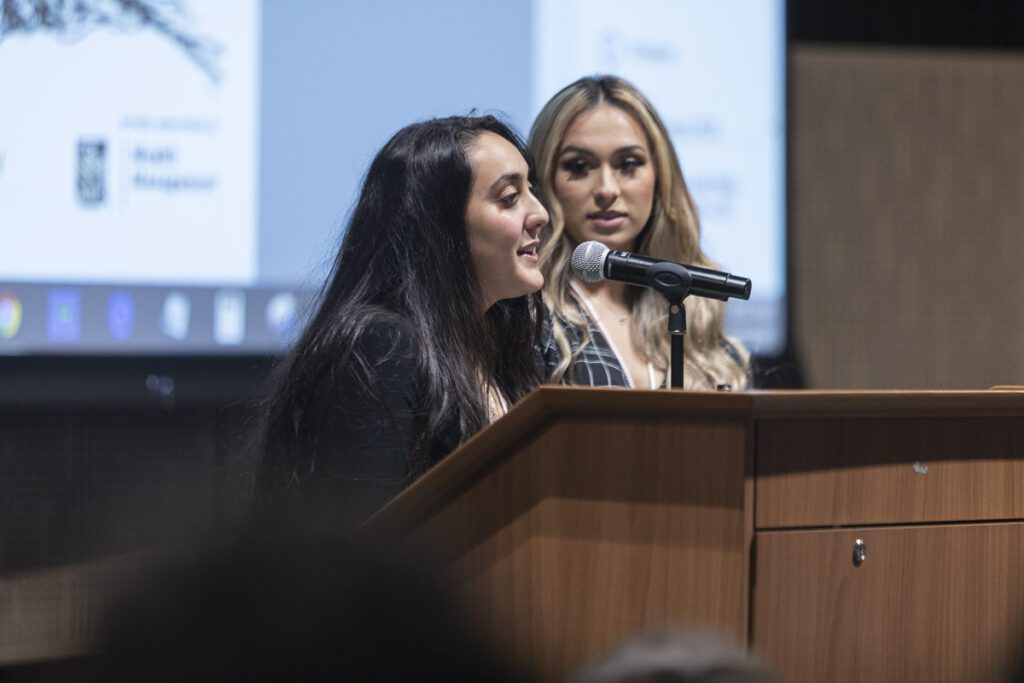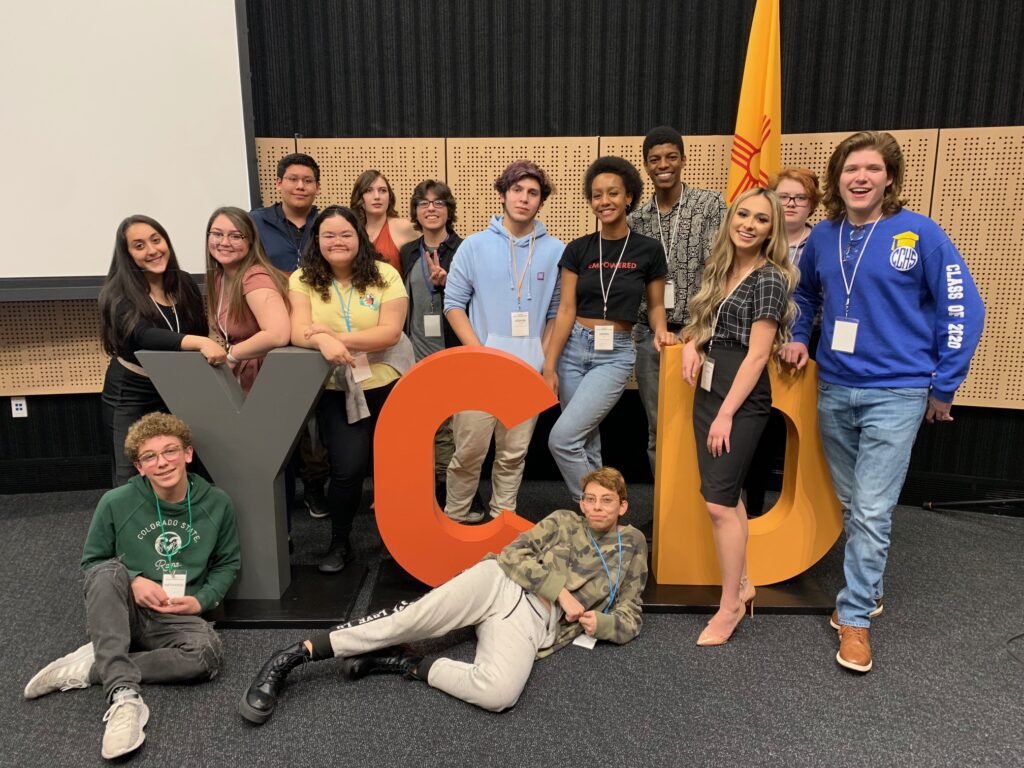 Student Facilitators
YCD will provide free training to over 30 students to co-manage student discussion groups on the morning of the New Mexico Diversity Conference for Youth. After attending mandatory training sessions, facilitators are paired and assigned discussion groups with approximately 20-25 students from around the state on the conference day. Discussions can include any number of topics, including an exploration of stereotypes, bias, social problems, and sharing solutions and ideas to make schools across New Mexico safe for all identities.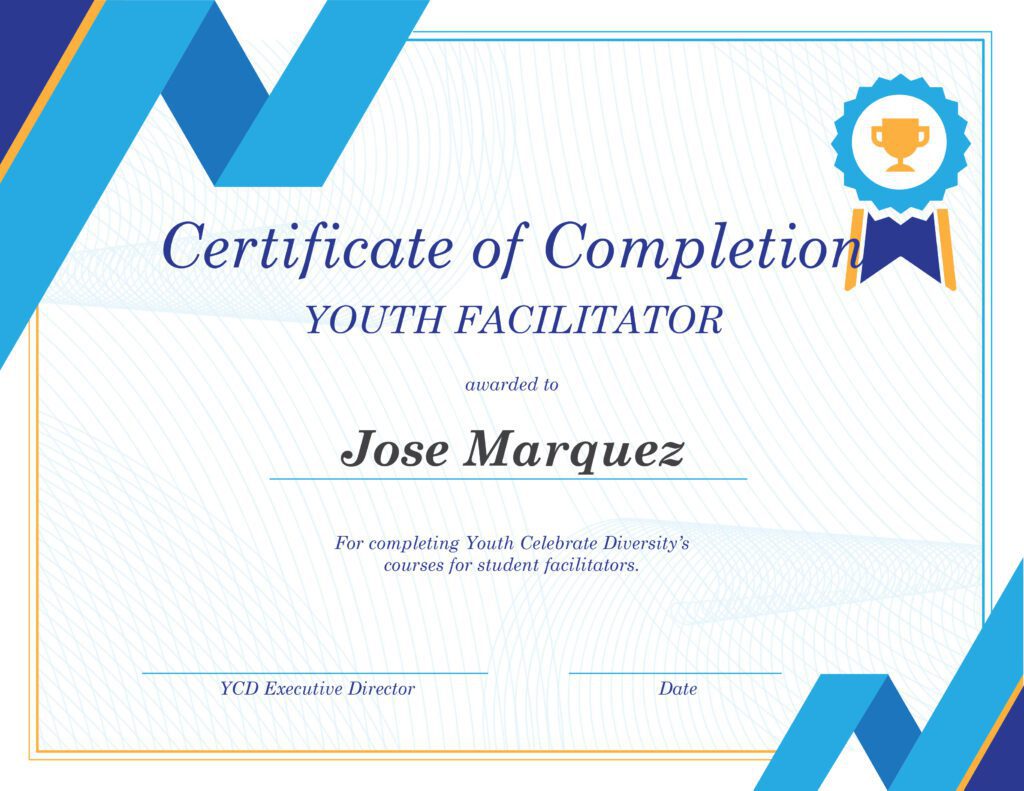 New this year, YCD will be providing student facilitator training virtually, so that students from across New Mexico can gain these valuable skills. To become a facilitator for the Conference, attend five virtual training sessions before the Conference day to gain YCD's Student Facilitation Certificate.
If you're a high school student and interested in taking this leadership role, click the button below to register.
Tickets and Registration
Our process for registration has changed from years past, so please read this message even if you have attended before.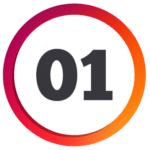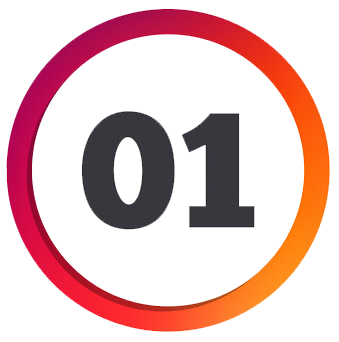 Organize your delegation.
Pick a group leader. This could be an adult faculty advisor who sponsors your club, or it could be your club's student president or chairperson. This person will receive all email updates about the event, and needs to be responsible for acting upon them.
Determine how many people you want to bring to the event, including students and adults. You do not need to identify specific attendee names when you purchase tickets, just a number of spots you want at the event.
Different clubs at the same school can register independently; don't make the process more complicated by taking responsibility for more than just your group. You can always collaborate on transportation and other items separately.
Also, everyone needs a ticket to attend, including adults. One ticket = one student or adult attending the event.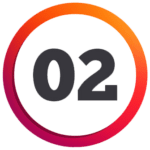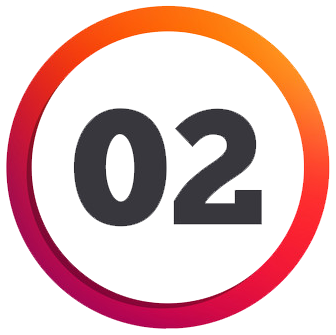 Purchase your tickets online.
We work hard to make this experience low-cost for everyone to enjoy, but must charge for tickets to cover the costs of putting on a large-scale conference. Ticket fees cover breakfast, lunch, a snack, materials for the day, and the amazing knowledge and insight shared by the dozens of presenters and performers.
Payment is made online when you register using a credit card or a bank transfer. If your group would like to register but cannot pay using a credit card or bank transfer, contact us to work out other arrangements.
Standard tickets are $30 per person, but we have two discounts available, and yes, you can quality for both!
Clubs that have registered with YCD (it's easy!) automatically get $5 off per ticket.
Early-bird tickets purchased before January 1 are also $5 off per ticket.
Scholarships are available. If your group doesn't have the money for tickets to attend the event, please contact us to discuss options. We'll do everything we can to have everyone join us regardless of ability to pay.
Sales are final, and unfortunately refunds cannot be offered. If weather prevents your group from attending the Conference, or if YCD cancels the event for any reason, we'll credit your account so you can apply the ticket fees to a future YCD event.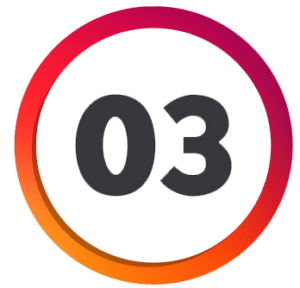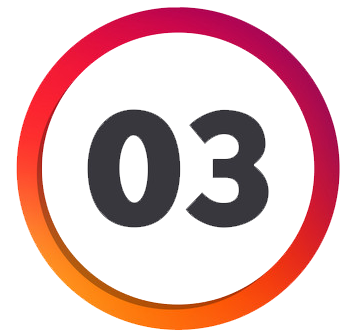 Have each participant select their workshops for the event.
Throughout Fall 2020 the Student Executive Committee will be reviewing and approving workshop proposals from members of the community.
No later than February 1, 2021, we will post the official list of workshops for the event on this website. At that same time, we will email each group leader with a registration code to provide to each attendee.
Every attendee will need to visit this website and pick their workshops for the event, as well as notify us of any dietary or mobility restrictions.
Get Your Tickets Today
If you're ready to proceed, click the button below to register your club or group for the 2021 New Mexico Diversity Conference for Youth.
Donations and Sponsorship
The Student Executive Committee is working hard to plan the 2021 Conference, but could use your support. We need to raise a total of $15,000 from the community to make this program a success. Please consider a donation or sponsorship to support these teens' efforts.
Donations
Individuals may donate online using the form below. Donations will be directed specifically to support this program.
Sponsorship
Sponsorships are available for businesses and organizations at a wide variety of levels and come with significant benefits to show attendees your support of their cause:
Gold Sponsor: $1,000+
Full-page advertisement in the Conference program distributed to all participants
Tour during Conference day by student co-chairs
Info table for participants to browse during arrival
Prominent display of logo on Conference website
Mention in post-event email blast to all participants
Mention of sponsorship over YCD social media channels
Silver Sponsor: $500+
Half-page advertisement in the Conference program distributed to all participants
Info table for participants to browse during arrival
Invitation to attend Opening Ceremonies
Display of logo on Conference website
Mention of sponsorship over YCD social media channels
Bronze Sponsor: $250+
Quarter-page advertisement in the Conference program distributed to all participants
Invitation to attend Opening Ceremonies
Mention on Conference website
For more information about sponsorship opportunities, or to make your pledge, please contact us.
Contact Info
For more information about the Student Executive Committee, contact either organizer for the program: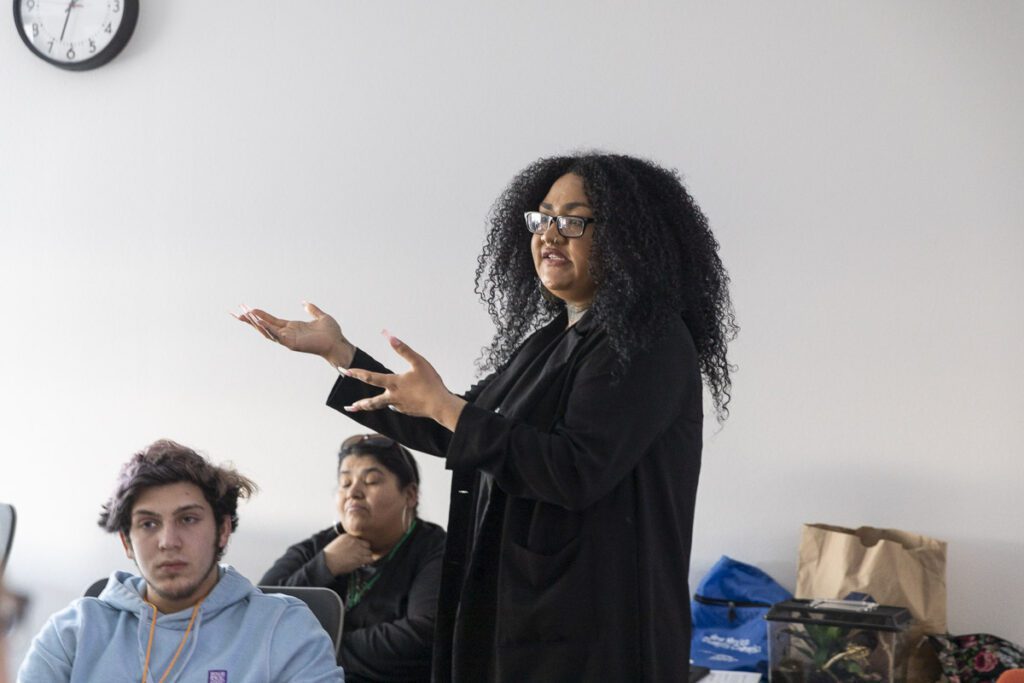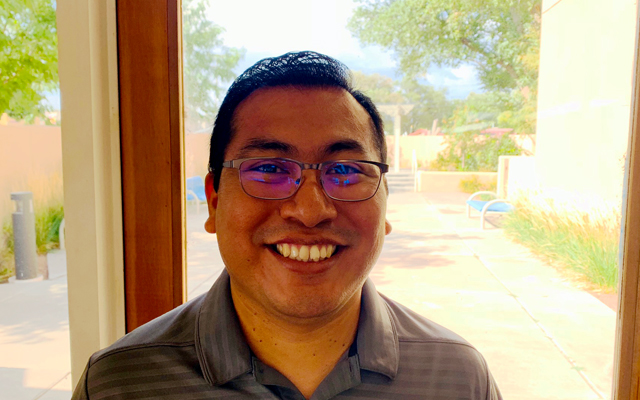 For questions about registration, payment, or anything else, contact YCD's Executive Director: