Use the YCD Guide to start or improve your own local, youth-led inclusion and justice club.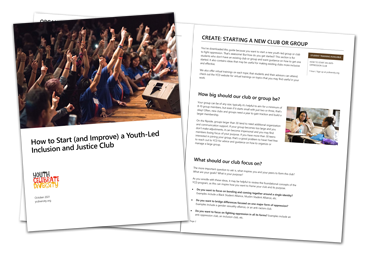 Download your copy of How to Start (and Improve) a Youth-Led Inclusion and Justice Club
We offer this 25-page guide free of charge to all young people looking to organize and fight for inclusion and social justice, wherever they are.
Includes sections on:
Fundamental concepts relating to inclusion, social justice, and anti-oppression work
Writing a club constitution (with a sample)
Obtaining school approval
Bonding activities
Defining the group's purpose
Facilitating difficult conversations
Fundraising ideas
Enacting a local action project
Roles and responsibilities for adults or faculty advisors
and much more!
Fill out this form to get your download link: